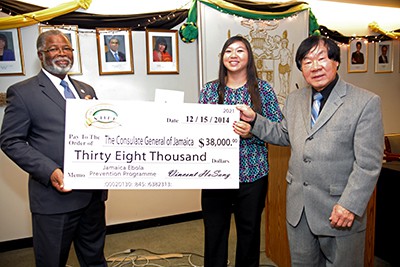 Manhattan, NY -The Vincent HoSang Family Foundation (VHFF) recently donated US$38,000 to purchase Jamaica's first Diaspora-donated walk-through thermal sensing unit to outfit the Norman Manley International Airport in Kingston, as part of that country's Ebola Preparedness and Response Activities.
The check presentation followed an appeal made by the Jamaican Consulate in New York, which is spearheading the Jamaica Ebola Prevention Program's response activities in the Diaspora. "After hearing the Jamaican Consulate's appeal at the recent Cornwall College Left to right: Consul General of Jamaica, Herman LaMont, and Sabrina & Vincent HoSang, VHFF (Photo: Ajamu Photography)Old Boys' Association Dinner Dance outlining the urgency for Jamaica's preparedness against the Ebola virus, it resonated with me," said Vincent HoSang, Chairman.
The VHFF's donation will cover the cost of one of five thermal scanning machines needed. "The Jamaica Ebola Prevention Program calls for the urgent procurement of several items, including five (5) state-of-the-art thermal scanning machines," said Jamaica's Consul General, Herman LaMont. "The Consulate is extremely appreciative and thankful that the VHFF has responded to the call for assistance."
He said he is particularly thrilled that the Diaspora can join forces with corporate Jamaica to fight the threat of the deadly Ebola virus.
The donation is the third of its kind, as two similar thermal scanning machines were earmarked for the Sangster International Airport in Montego Bay and the Falmouth Cruise Ship Complex in Trelawny, donated by Jamaica-based Sagicor Insurance Group and Supreme Ventures, respectively.